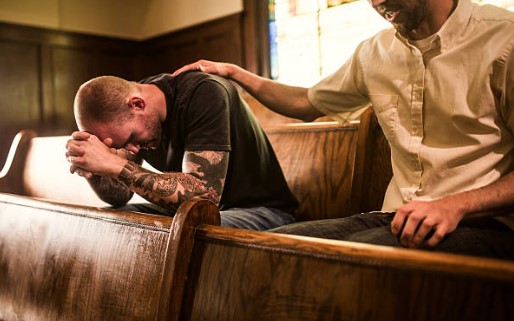 "My name is Bob and I'm an alcoholic". I had been introducing myself in A.A. meetings in that manner for over thirty years before I set foot in the Hot Springs Village, Arkansas Church of Christ in July of 2014 and became part of their recovery ministry.
Prior to that time, I had been Director of a large state-funded treatment program, where issues of "church and state" discouraged clients from bringing Bibles into the institution. As a longtime member of Alcoholics Anonymous, I knew that the core principles of A.A. were taken straight from the Bible and, because of their 12-step process that produced a spiritual awakening in me and millions of others, I also knew that this faith-based worldwide fellowship of Alcoholics Anonymous was the single greatest cure for addiction. Because of that fact, in creating the SOZO program, we wanted to blend the experience and wisdom contained in A.A.'s 12 step process with the teachings of Jesus as expressed in the Bible.
What follows is a brief overview of my experience at SOZO Addiction Recovery Center that saw God change the face of addiction treatment, the culture of my church, and my life.
In 2010 the Village Church of Christ started a one-night-a-week class modeled on the Christ-centered program, "Celebrate Recovery". The class, started by a church member named Jimmy Allen, who was an addictions counselor, never drew many more than 8-10 attendees each week, but it was the beginning of introducing the church culture to the idea that it could minister to people with all kinds of issues, including addiction.
Then, in 2011, we learned two very important facts about our seemingly serene retirement community: 1) The primary cause for 9-1-1 calls in Hot Springs Village was spousal abuse as the result of alcohol or prescribed pain medications and 2) Over 50% of the student body of the nearby Jessieville School District were living in the Village. Many of these children were living with grandparents because their parents had lost custody of their children due to substance abuse. The nation's number one public health problem had settled right on our doorstep in our retirement community. Several in our congregation wanted to do something about that. So, in 2011 discussions were held among key "champions" in the congregation about the possibility of creating an actual recovery program that included an inpatient residency for addicts and alcoholics. In my opinion, the program would never have gotten off the ground without those "champions" and their financial investment and ongoing support. Chief among them were Gary Bennett and Myron Hall.
Because of the shame-based nature of the disease of addiction, not everyone in the congregation understood the need for such a church-based mission. If you are one of the few American families that has not been directly affected by this disease, it is likely that you will have no idea of the devastating effects it brings into family life and that addiction is America's number one public health problem.
What started to affect the culture in our church in a positive way was God's ongoing miracle of recovery and the obvious effect that the transformation of these men over a short period of weeks had on the congregation. I think that many in our congregation had read about miracles, and talked about miracles, but few had ever seen the miracle of transforming a despairing human being with no faith into a baptized Christian who is truly born again. (Although it is not part of our curriculum or a requirement for admission to SOZO, over 90 men have become baptized and added to the church congregation in the past four years. They simply are drawn to it.) This is more baptisms than we witness in an entire country where the church supports missionary work.
Another reason for the growing acceptance and comfortability with having a recovery ministry in our church is the undeniable fact that the church is providing a powerful and indispensable dynamic in the recovery process of these men. We recently completed a "SOZO Resident's Satisfaction Survey" in which the clients evaluated every aspect of our program, from food and lodgings to staff, to every one of over thirty classes and recovery group experiences. The client's choice as their favorite class was the daily Bible Study. Frank Wells, Johnny Jones, James Johnson, Roger McMennamy and Jerry Hunt have been coming to SOZO faithfully every week to teach the Bible ever since the program started in February 2012.
We started with just one home that could accommodate 4-5 clients and one residential Manager who stayed there day and night. Today, we have three recovery homes that can accommodate 21 men on a 6-acre campus. Many of our staff have been successful graduates of our program. SOZO Recovery Center serves the local recovery community by hosting a wonderful A.A. meeting on campus every week. In addition, we have served the needs of the families of our clients with a weekly on-campus meeting of Al-Anon.
Neighboring churches are beginning to ask our men to come testify before their congregation. Some of these churches provide financial and volunteer support to SOZO. Other churches, after hearing about our faith-based program, are sending us members of their congregation who need help in recovering from addiction.
Nothing builds awareness better than the creation of a successful program that grateful family members want to spread the news about. Without exaggeration, this church-centered way of healing is far more effective than the standard secular programs. Do we heal everyone who comes to us? No. And the staff and congregation feel the regret and disappointment with every set-back. However, our success rate is far better than that of the state or national average. The inclusion of the church and Bible-based wisdom in everything we do is a key component in our success.
Today, we are a program that our church is proud of and supports us throughout the year. This has not only sustained us financially in our early years, it also has been a very evident and powerful boost to the morale of SOZO staff and residents alike. It also has become a source of pride for our Elders, Board of Directors, and members of our congregation.
Put very simply, we believe that addiction is a spiritual malady, and the healing process requires a spiritual awakening and a series of ongoing spiritual experiences to sustain lifelong sobriety and a life that is happy, joyous, free and purpose-driven.
I have found that, while most recovering addicts/alcoholics feel that "good people go to church", they are reluctant to attend church after getting sober because they are ashamed. Many feel that God has turned His back on them because of their addicted past. At SOZO, the immediate full immersion of our clients into the life of the church is a true revelation to these once hopeless men. To paraphrase Jesus, loving one another is the most powerful healing in the world. To see these hardened hearts soften within weeks and begin to respond to Christians in church who truly walk the walk is an exciting and powerful experience.
A congregation of loving Christians has provided the faith-based environment where spiritual awakenings and experiences can be born and sustained. It is an irreplaceable element in our efforts to help these men. We feel that we are on the cutting edge of a new development in the treatment of addiction and a clear opportunity for the church to step forward and do what profit-driven organizations seem incapable of doing.
On behalf of the Village Church of Christ Elders and the SOZO Addiction Recovery Center Board of Directors, I offer all our sincere best wishes to all who choose to follow in our footsteps. We stand ready to consult with you and help you in any way that we can.
Bob O'Dowd, Executive Director